Bonfire night is on a Thursday this year and there are various displays you might want to go to or be aware of happening during the week. In chronological order (you can do all three this year!) …
Cambridge City
What is generally the biggest of the lot, the city display, happens on firework night itself, Thursday (5/11), and is held on Midsummer Common with the display kicking off at 7:30pm. There's also a fun fair and a bonfire. The Cambridge Live Trust web site has full details here which includes details of parking, road closures, and buses you can use.
It's nominally free although there is usually a bucket collection and they're suggesting a donation of £2 per person. You can also donate £2 by texting BANG to 70500. Please don't take fireworks or sparklers.
If you've not been before be warned that you shouldn't even think about driving in: the city gets completely gridlocked and many first timers probably end up watching the display from their car. So you're best to either walk, cycle or take the bus.
Park & Ride buses will be running and up to three children can go free with each fare paying passenger. Passengers are recommended to leave the sites no later than 6:30pm to ensure arrival at Midsummer Common before the display starts and the last return will be at 9pm.
Milton Primary School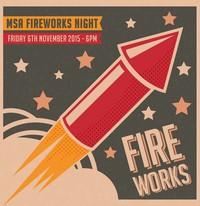 The big one in the village, run by the Milton School Association on their playing field, takes place the following Friday night (6/11). Gates open from 6pm and the display starts at 6:45pm. This is open to the village.
Tickets are on sale online this year priced at £3.30 for adults and £1.80 for children. Tickets will also be available at the gates for cash at £4 and £2.50 respectively. Pre-school children get free entry.
There will also be food (burgers, veggie burgers, hot dogs, and chips) which needs to be pre-ordered via the web site.
Again for safety reasons please do not bring your own fireworks and sparklers.
Histon and Impington
The other big local firework display which is worth mentioning is the ever-popular Histon and Impington Fireworks Extravaganza. The Extravaganza will be held on the following Saturday (7/11) on the playing fields at Impington Village College (IVC). The show is an opportunity for families to enjoy spectacular fireworks at a safe, local venue, and also raises money for the local schools including IVC which is where many Milton children go at some point in their academic lives.
As well as the display itself there will be a BBQ and hog roast run by David Robinson, ice cream and crepes from Verreccia's and with a range of hot drinks and cakes from the Junior School PTA plus a small fairground to keep young children amused.
Gates open at 6:00pm with fireworks starting at 7:00pm.
Tickets will be available on the gate, or you can beat the queues and save money by buying tickets in advance from shops in Histon and Impington (Tucker Gardner, Daisy Chain, Histon Chop Shop, the Geographer, Station Stores and D:Licious).
Note that there is very limited parking on site. If you have to drive, leave plenty of time, and if the car-park is full do park considerately and take care of the large number of people crossing roads in the area.