In All Saints' parish church there is plaque commemorating the dead of the Great War which, curiously, bears a different list of names to those on the War Memorial. You can find it on the wall above the pulpit.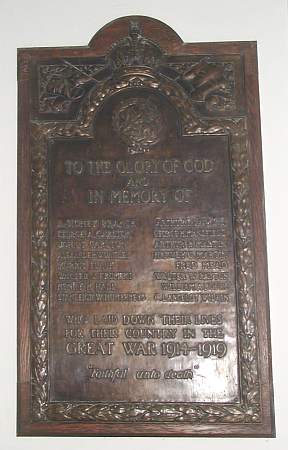 The plaque reads as follows (the names are recording upper case, not lower case as shown here):
TO THE GLORY OF GOD
AND
IN MEMORY OF
WHO LAID DOWN THEIR LIVES
FOR THEIR COUNTRY IN THE
GREAT WAR 1914-1919
"Faithful unto death"
Curiously three names, those starred above, are not on the war memorial and three which are on the war memorial are not on this plaque: CB King, H Lanham and H Martin. Hugh Martin although born in Milton, was married to Alice of Histon so this may explain why he's on one but not the other.
There's also a small difference in spelling. On this memorial we have Henry H. Hall but on the war memorial he is recorded as HH Halls.