With this morning's snowfall the weather has turned distinctly Chritmassy. And right on cue there comes confirmation that Santa will be making his annual visit to Milton. Not once, but twice!
The first visit is this Sunday when Santas on motorcycles, aka Cambridgeshire Volunteer Bikers, will be riding through Milton delivering to care homes. They will be stopping at Tesco to say thanks for their donation. Be sure to give them a wave.
The bikers are scheduled to pass through between 1-2pm, but keep an eye on their Facebook page for updates.
Santa's next visit will be closer to Christmas. Santa will come riding on the Cambridgeshire Search & Rescue sleigh through Milton on 18 December. Santa has flown over the village earlier today to check the route and aims to do the whole village in one evening.
However, this year will be very different from other years. There will be only one Elf with Santa and they won't be knocking on any doors.Santa will be trying to visit as many places in the village as possible (see the list of streets in the order that he intends to visit them), this is just a guide and the actual route may change somewhat on the night.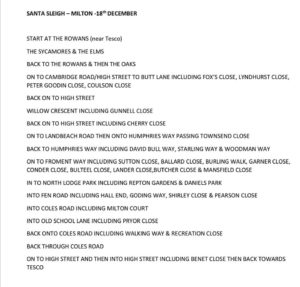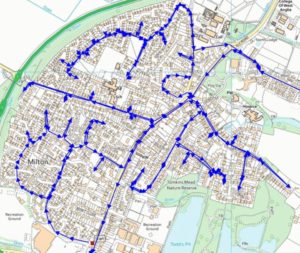 During Santa's visit, the sleigh will not be stopping and Santa has asked that nobody comes to the sleigh. Please stay on your own property where you can and where this cannot happen, please observe social distancing by keeping at least two reindeers apart from other households and wear face coverings (white beards acceptable) in line with local guidelines where possible, but please do come out and give Santa and one of his elves a wave.
There will be no collection of donations on the night and I'm afraid we will not be giving out sweets either this year, but if you do wish to donate to help support Cambridgeshire Search and Rescue then details will be shared nearer the time.
Cambridgeshire Search and Rescue will be sending one of its vehicles slightly ahead with flashing orange lights to check the route, so when you see this, Santa won't be too far behind.
Thanks again for your support and we will see you on the 18th December. We will be starting from around 16.30 on the night and will update Facebook wherever we can on where we are.
We are really looking forward to seeing you all and so is Santa…that is if he ever catches up to the reindeer (see video in post)